Standing tall, standing proud
Ever watchfull
Sending a guiding light on the four winds
Seeing all who call out in the dark
Beacon of understanding
Lighting up the night
Sweet scent of roses on the breeze
Bringing comfort to the soul
Guardians of the wind
Know of the desire to be reunited
Understand being left behind
They have learned
There is rebirth in reunion
In the next world
Each step you take along the path
Each heart beat
Keep closer hearts joined
Always and forever
Remember the Guardians of the wind
Ever watchful, always near
Till the day of rebirth in reunion
Keep on keeping on

BarTendersBluesWolf~January 19, 2006.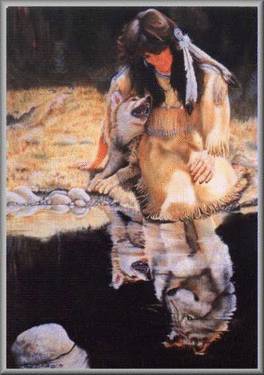 FOREFATHER'S FOOTSTEPS
Many generations have gone before us, have walked this path before us
Leading the way along the paths of peace and understanding. Let your heart follow
Listen to words of wisdom whispered on the breeze, words of understanding
From those who have been where you are now, look to the Forefathers
Learn from their words, from their lives of caring and love. You are the
The generations that they fought for, the one that would follow them
The one they pass the guardianship of this world to. To protect your brothers
To be the voice of ones who can not speak out for themselves. To get others to
Listen to the howl of the wolf. You will be the Forefathers for the next generation
Will they hear your words of wisdom and learn from it, or question it and ask why
Now is time to raise your voice and join your forefathers, guardians of the winds
Protectors of the wilds, brother to the wolf, Sister of the winds,
Daughters and sons of Mother Earth. You are the voice calling out, never be silent

BarTendersBluesWolf~March 3, 2006.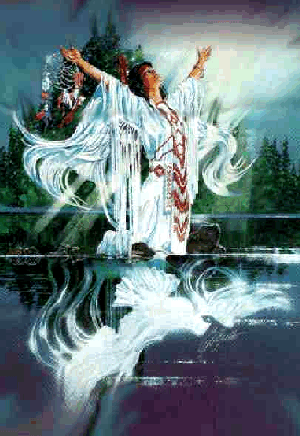 CALLING OUT THE WINDS OF PEACE
Calling out the winds of peace, sending out the white doves
of love. Whisper to the hearts of those waiting to begin learning to give of their hearts
Let the dancing rain and silver tears wash away the pain of grief
Look to the colours of the rainbow and find healing in their glowing warmth
Open your hearts, open your souls and open your eyes to see and feel
Listen to the winds of peace calling out to you. look into another's eyes
Reach out and accept them for who they are. Let the differnces enrich you
Listen to those who give their hearts to you and embrace them.
Few are ever given this gift, treasure it as you do a dream family

BarTendersBluesWolf~March 3, 2006.
Music~"Brave Warrior"